RheinEnergie E-world
Energy turnaround on a beer mat: RheinEnergie AG is going Colognian – at the E-world in Essen, too. Visitors receive information about specific projects that have been realised relating to the energy turnaround on an interactive Rhineland map with the help of tagged beer mats, among other communication solutions.
The space on these for one or two "Kölsch" beers is part of the concept, as are the Cologne-style giveaways.
Regional und interaktiv
Leitidee der Gesamtkonzeption war die Verbindung von interaktiven Dialogtools mit spezifisch "kölschen" Themen. Dafür stehen Besuchern und Beratern unterschiedliche Bereiche zur Verfügung.
Den spielerischen Einstieg bildet ein interaktiver Tisch mit einer Karte konkret umgesetzter Projekte der Region. Relevante Themen wie Windenergie, Solarenergie, Elektromobilität oder Kraft-Wärme-Kopplung werden durch Scannen "intelligenter Themenkarten" aufgerufen. Die Navigation erfolgt über zwei separate Multitouch-Interfaces. Bei Interesse lassen sich die Themen in einem Warenkorb sammeln und individuell per Mail verschicken.
Gemeinsam die Energiewende gestalten
Für vertiefende Gespräche stehen Dialogcounter mit integrierten Touchscreens bereit. Hier haben die Fachberater Zugriff auf spezifische Präsentationen aus dem Unternehmensportfolio. Aufgerufene Inhalte können auf mobilen Tablet-PCs synchronisiert und in weitere Gesprächsbereiche wie Lounge oder Meetingräume mitgenommen werden (following content).
Da die Medien und Kommunikationsflächen modular gestaltet sind, kann der Unternehmensauftritt in den folgenden Jahren sowohl die kommunikative Botschaft und damit auch den formalen Gesamteindruck deutlich verwandeln.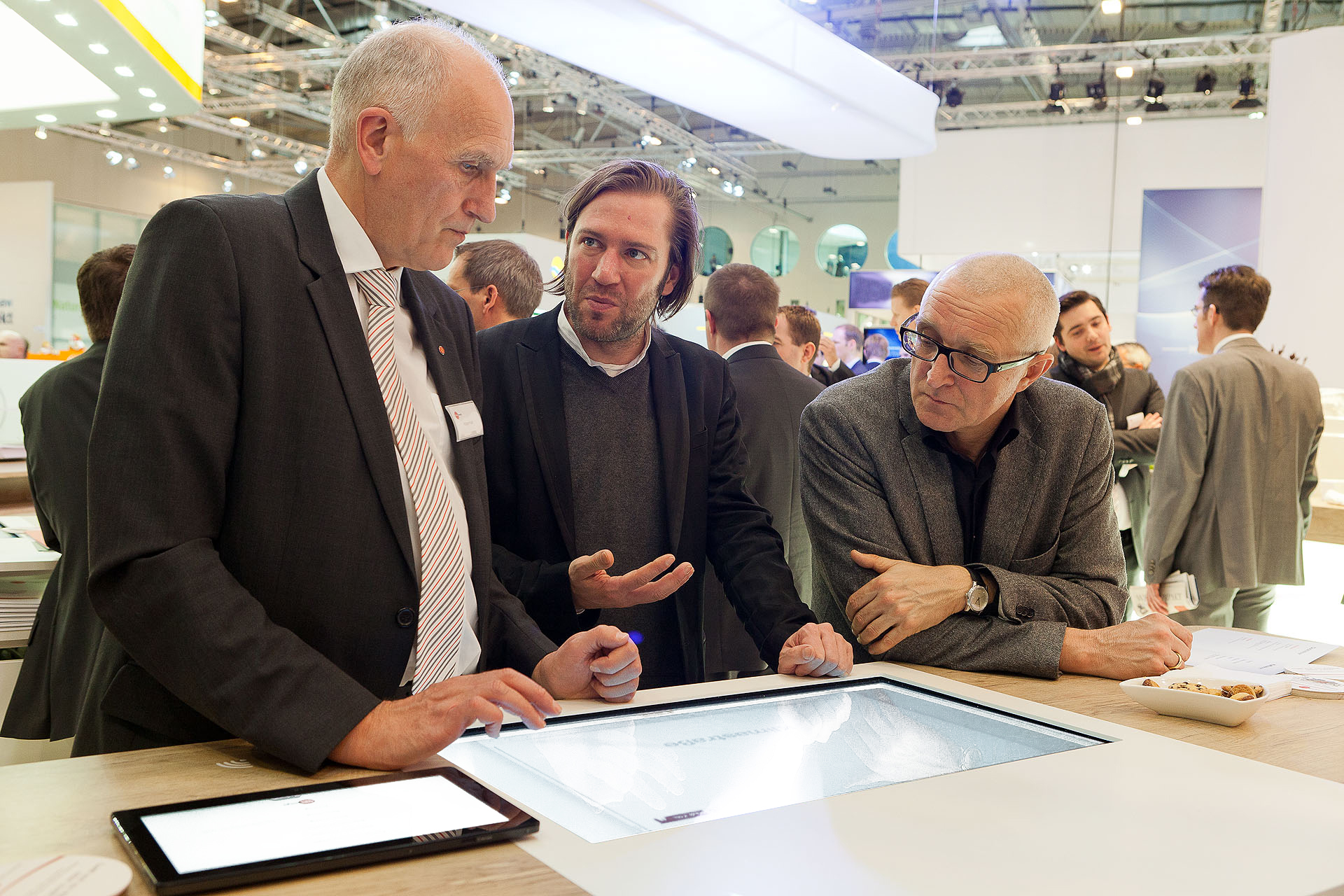 Project details
---
Services
Media Planning
Project Coordination
Project Realisation
Related projects and topics