Digital construction site for AVS.
AVS and Berghaus, the leading providers of security services in the road traffic sector, offer products and services to ensure that construction sites are optimally secured and that all road users pass safely through the danger zone.
dreiform makes this construction site a virtual experience: as a lively and interactive motorway scene – without any risk or road noise, but with a huge amount of in-depth service and product information. Made to drive through on PC or mobile device.
How to visit an active construction site?
Product solutions are best experienced where they are deployed. In their actual context, the relevance of functions and advantages becomes clear. But if the location is a construction site, a presentation can be difficult or even dangerous. The approach: a digital, networked product presentation that takes visitors where it gets exciting – right into the action on the road.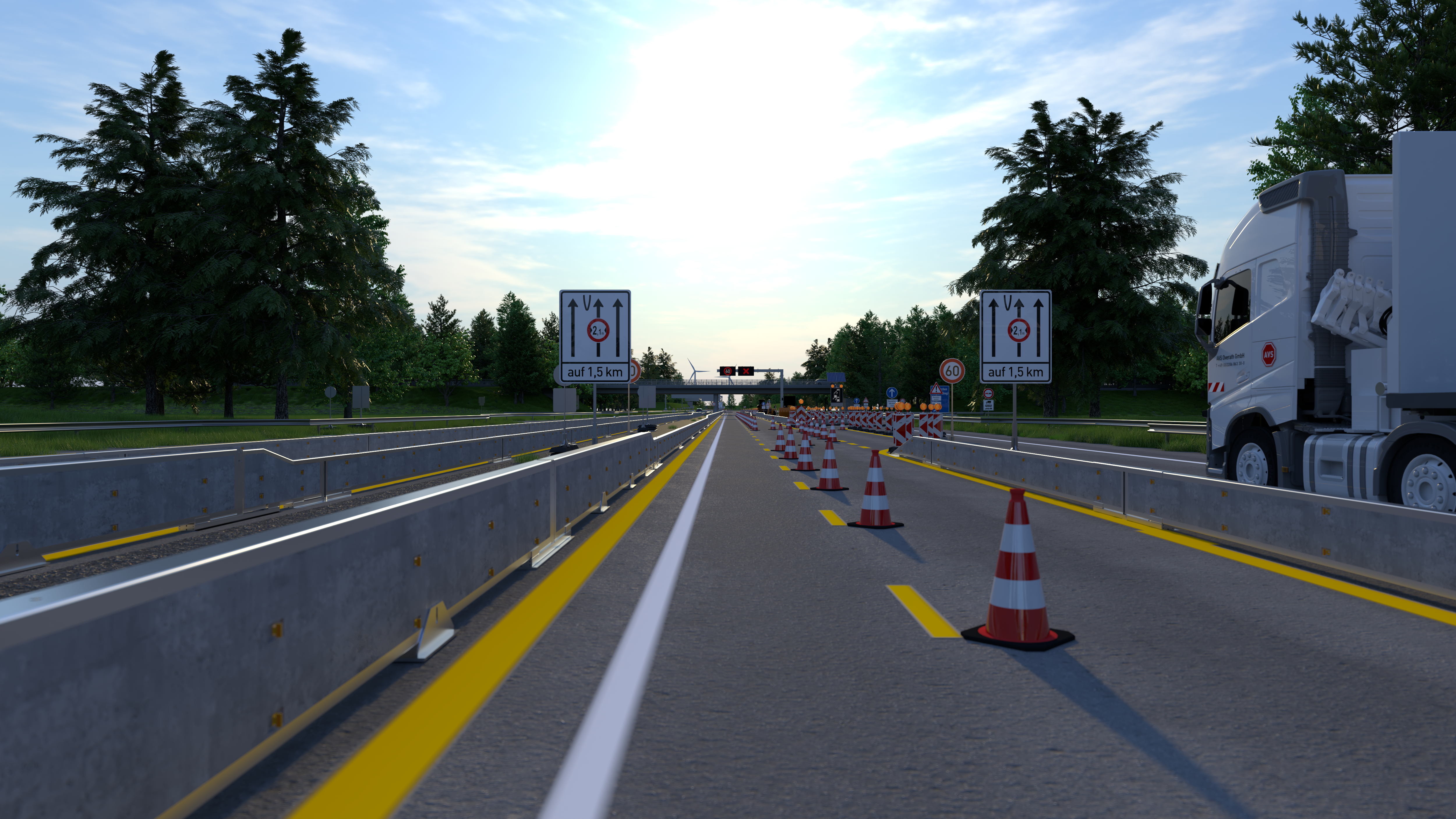 360° Perspective
Discover from the driver's point of view: The virtual showroom takes users on an experiential journey through the motorway construction site, in which AVS/Berghaus products and services play the star role. Operation is simple and intuitive via mouse or touch – similar to Google Street View.
We are now available for our customers, prospective clientele and business partners 24/7 – for dialogue of any kind and as an initial virtual introduction to our topics.
Melanie Hempfer
(AVS, Head of Marketing, Communication & Branding)
Next exit in 500 metres...
Even a digital construction site needs to be planned – but without complex approval procedures, assembly or dismantling. As AVS is everywhere roads are in need of restoration, the next exit leads to another product setting in an urban context, which visualises additional elements of road safety systems.
An offline version for tablets as a "construction site to go" is also available to support sales, site management and project management during consulting and project meetings on individual road safety options.
O-Töne zum Projekt von Melanie Hempfer (AVS)
Innovation

Even (or especially) as a medium-sized company, we want to implement Vision Zero to secure Europe's roads sustainably. It is not just our products and services that aim at innovative, digital technologies to increase safety in road traffic projects. So it makes sense to also move forward with a digital showroom in an innovative, future-orientated and visionary way.

Good Reasons

A road construction site is not easy to visit. To make up for this, a virtual showroom offers great opportunities. What's more, our increasingly diverse products, which are developed and produced at numerous locations, can also be brought together in a central location. And when trade fairs, training courses and personal customer contact became almost impossible due to the pandemic, the idea for this innovative presentation was born.

USP

There is no shortage of virtual displays. However, a digital construction site is so far unique in our industry. Road safety is a complex topic and always very individual. With our showroom and above all the data sheets, we are able to present every product and service we offer and make our complete portfolio tangible.

Opportunities

We are now available for our customers, prospective clientele and business partners 24/7. Whether in a digital project meeting, a training session or a product presentation, this creates an attractive contact point for dialogue of any kind.

There is no need to travel any more to visit a construction site in person with our teams or to get to know our services and products face to face at one of our locations.

Added Value

The digital showroom can be grasped intuitively. So it made sense for us to think even bigger. We are integrating more road safety elements into the showroom, with a municipal construction site soon to be added alongside the motorway construction site. But the showroom also leaves the virtual space and can be experienced in the real world – for example at our booth at the IRF World Meeting in Dubai or next year at Intertraffic in Amsterdam.
Making a road construction site tangible for everyone without risk or noise – the digital showroom makes possible what is impossible in the real world.
Linda Gasper
(dreiform, Project Manager)
Looking for your own virtual solution?
Whether you need a digital twin, a photo-realistic parallel world, nonlinear storytelling or imaginative spheres beyond physical laws – with our proprietary dreiform software solutions, we can make your individual needs for virtual communication come alive.
Feel free to get in touch. We'll listen and together we'll figure out how to take your portfolio digital.
Facts
---
Location
PC, tablet or smartphone
Offline version on tablets
Eyecatcher at trade fairs
Services
CGI 
Concept development
Content design
Virtual Exhibition and Experiences
Feature Facts
Company intro
Point-of-view shot
Contact form
Language selection DE / EN
Virtual data sheets
Brief information with images
Links to websites and brochures