3M Customer Inspiration Lab
The Customer Inspiration Lab is the logical continuation of our work we're doing for 3M: after the successful staging of the 3M product universe with the "3M World of Innovation" in Neuss and Vienna, dreiform has now created a visionary presentation format in terms of technology and content for 3M technologies and markets with the Customer Inspiration Lab.
The Inspiration Lab helps us to get to the specific problem and then to the appropriate technological solution.
Reza Vaziri
(3M)
Eine intelligenzbasierte Ideenschmiede
Das Inspiration Lab ermöglicht 3M, einen neuen Geist der Zusammenarbeit mit seinen Kunden zu etablieren und in die 45 Technologieplattformen von 3M einzutauchen. Die persönlich vom 3M Technology Guide geführte 'Smart Tour' folgt einer dreistufigen Dramaturgie:
In der 'Introduction Area' werden die Inhalte interaktiv auf die kundenspezifischen Interessen zugeschnitten und in der 'Inspiration Area' systematische mit 3M Technologien und Märkten verknüpft. Im angegliederten 'Collaboration Room' werden die für die individuelle Tour gespeicherten Inhalte von allen Tour-Teilnehmern reflektiert.
Das "Labor der anderen Art"
Vor allem mehr Interaktivität, mehr Querdenken, aber auch mehr Sinnlichkeit, mehr Entdeckerfreude werden angeregt, indem die Gäste des Lab an insgesamt zehn Stationen ausgewählte Exponate haptisch und medial erkunden.
Hebt der Besucher ein Produkt an, lösen Sensoren automatisch den entsprechenden interaktiven Content auf dem Touchscreen aus: weiterführende Texte und Bilder erläutern Anwendungsgebiete, Produkteigenschaften und für das Produkt relevante Märkte.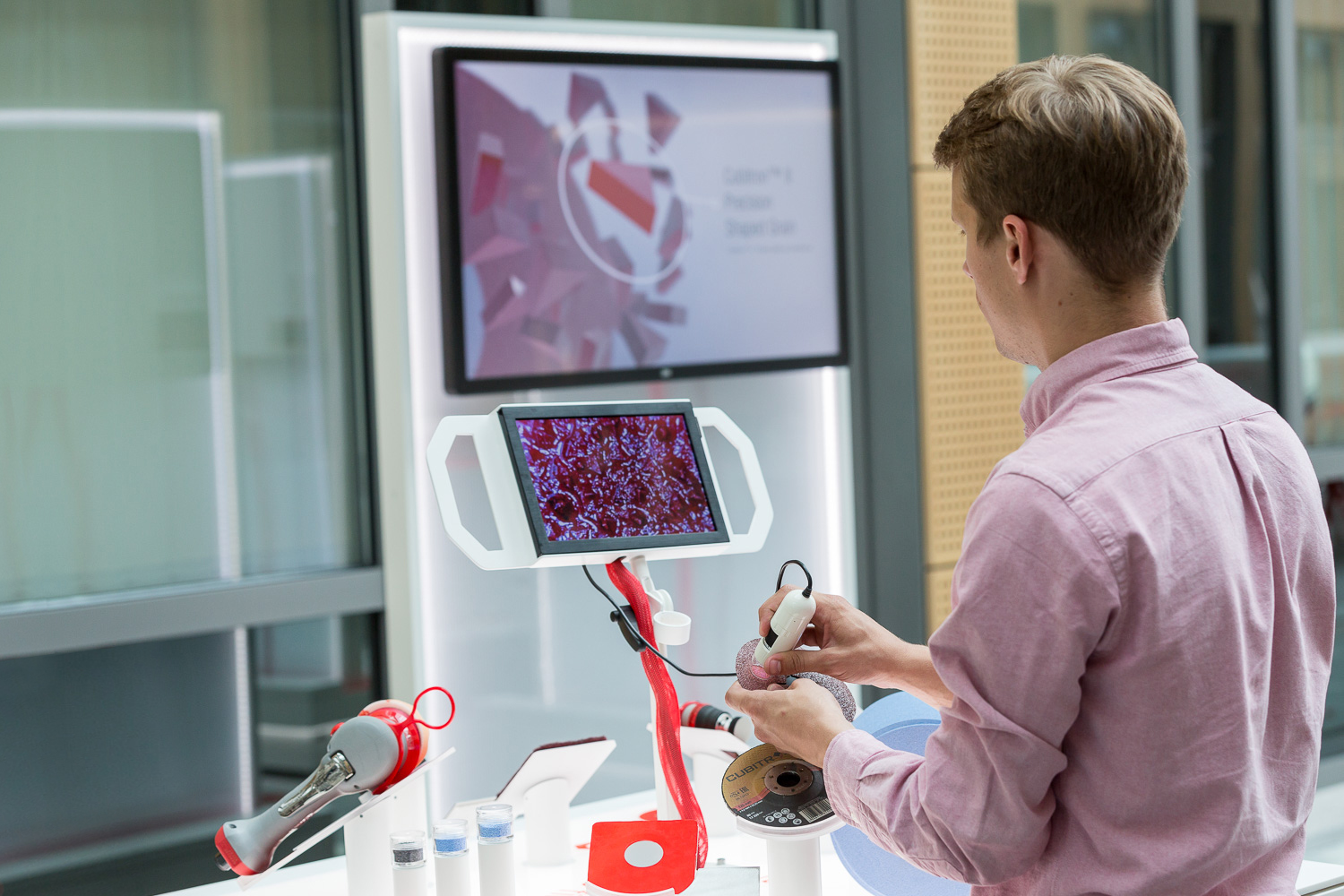 Follow Up
Alles was während einer laufenden Tour angehoben und besprochen wird, wird in einen individuellen Info-Pool gespeichert und ist im an das Lab angegliederten Collaboration Room wieder abrufbar. So wird die maßgeschneiderte weiterführende Beratung und Einbindung in alle relevanten CRM-Kanäle ermöglicht.
Gemeinsame Erfolge sind Ansporn, weiter zusammenzuarbeiten, neue Ideen zu entwickeln, neue Felder der Partnerschaft zu finden. All das macht die Inspiration aus, die womöglich zu etwas führt, woran vorher kaum einer dachte. So ist das Customer Inspiration Lab für jedes Unternehmen interessant, das an individuellen Lösungen für konkrete Probleme arbeitetet oder auf der Suche nach neuen Ideen für die Zukunft ist.
Erste Gespräche zeigen, dass keiner das Lab ohne neue Erkenntnisse oder Ideen wieder verlässt.
3M
Project details
---
Services
Film + Postproduction
Infographic
Interface Design
Project Coordination
Project Realisation
Facts
1 Collaboration Space
10 theme islands with 6 product solutions
47 Technologies in an interactive product universe
55 Product Track Sensors
Related projects and topics.