Die Räume des Office 4.0
Das neue dreiform Office 4.0 markiert den Weg zu einer noch agileren Ar­beitsweise in hochgradig flexiblen und inspirierenden Räumen: Backstein­wände, sechs High-Cube-Seecontainer, Weitspannregale, ein Arbeitskran, viel Glas und Licht auf einer Gesamtfläche von über 600 Quadratmetern.
Das Studio steht sinnbildlich für einen Veränderungsprozess, der positiv zur Erneuerung und Optimierung der dreiform-Arbeitsprozesse, -Werkzeuge und -Kommunikationskultur beiträgt – unerlässlich, um die dreiform-typischen Oberflächen mit Tiefe zu gestalten.
Open Office
Die räumliche Gestaltung des neuen Büros ist geprägt von der offenen Hallenfläche und Transparenz der teilverglasten Container-Räume. Neben offen gestalteten Bereichen gibt es vielfältige Möglichkeiten für Rückzug und Konzentration.
Raumgliedernde Elemente wie Seecontainer, Weitspannregale und mobile Raum­teiler strukturieren die Halle in Bereiche mit unterschiedlichen Funktionen. Diese werden in allen Bereichen mithilfe von Piktogrammen visualisiert. Sie unterstützen das Bewusstsein des Teams für die "Raum-Regeln", für ein konzentriertes Arbei­ten und gutes Arbeitsklima.
Space for virtual Projects
Der Instant Project Hub ist in einem Doppel-Container untergebracht. Er dient sowohl als Ideen-Inkubator für Kunden-Projekte als auch für freie dreiform-Arbeiten. Der Raum bietet viel Platz für Kick-Offs, Brainstormings und Kreativ-Hackathons – mit vollem Zugriff auf digitale Recherche-Tools – wie in allen Bereichen des Büros. dreiform-Gäste können hier die Virtual Reality-Tour durch Kundenprojekte oder auch das dreiform Office 4.0 erleben.
crEATe.
Das Working Café ist eine inklusive großzügig gestaltete Küche mit Sitzplätzen für 30 Personen, ist ausschließlich auf das Team-Erlebnis ausgerichtet: viel Raum für informelle Treffen, gemeinsames Kochen und Mittag­essen, Geburtstagskuchen, Kicker-Turniere, Filmabende oder den wöchentlichen firmeninternen Austausch beim "frei.tag".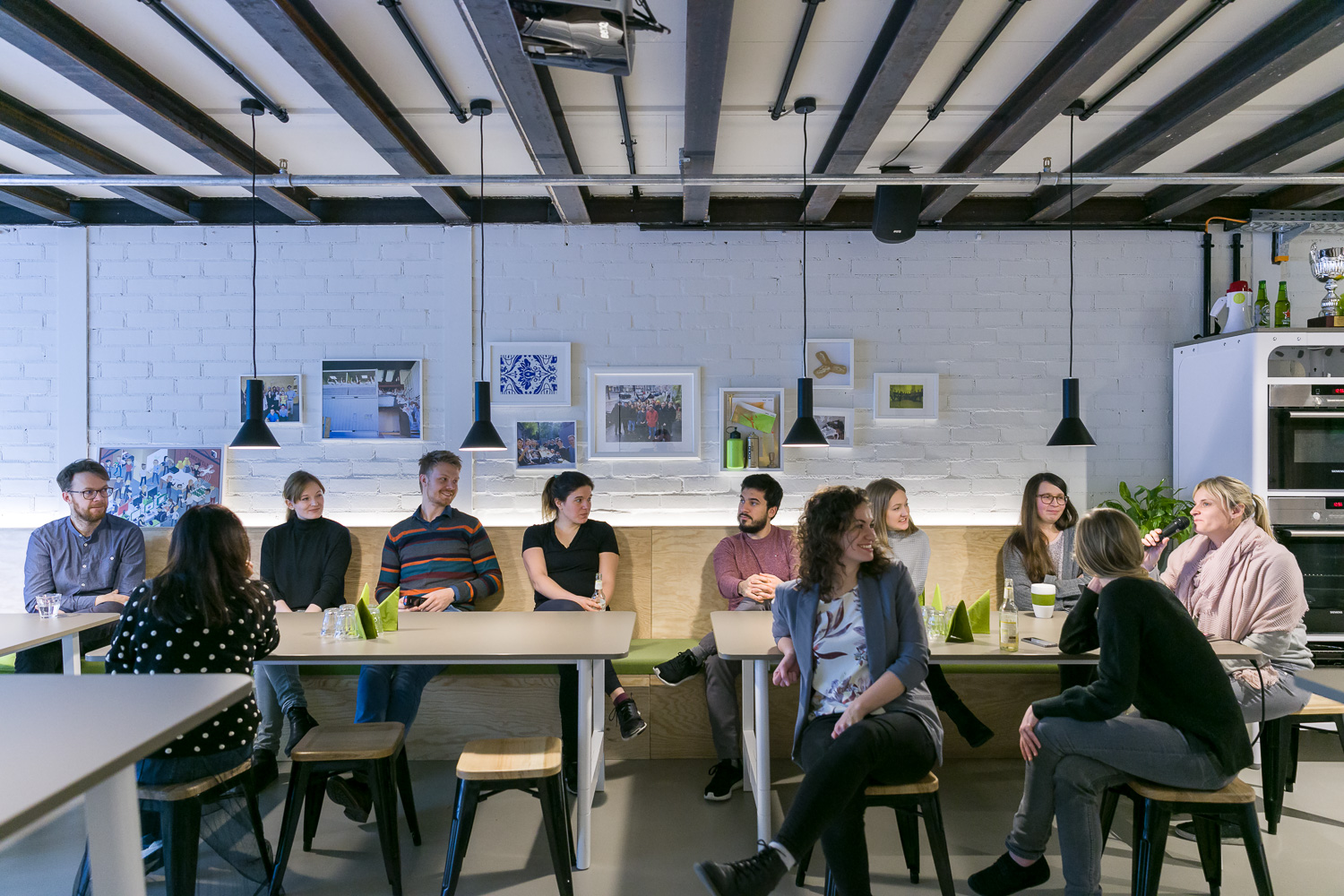 dreiform Think Tank
The furniture in the Open Project Space offer a variety of possibilities for spontaneous alterations.

Greenwall - Gallery for projects and awards and is also used as versatile storage space.

The Open Project Space offers space for work in interdisciplinary teams.

The salon offers space for internal meetings, customer meetings, telephone and video conferences.

The salon is located in one of the six containers.
Focus and concentrate.
There are two rooms in the telco container for confidential conversations, telephone and video conferences.

Graphic "room rules" remind us of the Do's and Dont's in the individual room areas.

Focus Area: A place to text, calculate or simply think and work in peace.

A place of retreat amidst books and magazines: the reading corner.

Sporty corner for the dreiform-Team.
crEATe. Working Café.
The way to the kitchen - including charmingly integrated "room rules" in the door handle.

Working Café: a place for a break and an informal meeting place.

Open kitchen variable modules.

frei.tag: at the company's lunch table, meals, completed projects and inspiring topics are served.
Projectdetails
---
Location
Kalscheurener Straße 19, Hürth/Cologne
Services
Collaborative Rooms
Communicating Change
Interface Planning
Mediaplanning
Project Coordination
Project Realisation
Facts
500 m2 Creative Co-Working
6 High-Cube sea containers
60 workplaces
30 seats in the Working Cafe
Photographer: Stefan Schilling
Further Office#4 projects.
Related projects and topics.