Siemens Foyer Rohrdamm, Berlin
A place steeped in history – highly innovative themes: the mosaic hall in the Siemens headquarters in Berlin has always combined both. This now becomes apparent in the foyer of the building.
The newly designed waiting area is enriched by a graphic-media presentation layer that stuns visitors from the first impression . The visual representation of Siemens MindSphere – the company's own IoT open operating system – is used visually and digitally to connect different topics in the waiting area.
The Location
The Siemens administrative building on Rohrdamm is a historic building with a bright future. The hall of honour, also known as the mosaic hall because of its large floor mosaic, has always been an important representative location for the company.
Connecting the dots.
Dot by dot to see the all-round experience of innovations and the company.
Waiting becomes an entertaining discovery of current news, stories by SIEMENS in Berlin and interactively retrievable films about the company's future topics. The "dots" on the glass wall invite you to call up various topics interactively.
A special highlight: the buttons were specially designed for the project in the dreiform D.LAB – they allow selected content modules to be activated wirelessly. The content shown is generated automatically by way of intelligent programming from the group's current press releases.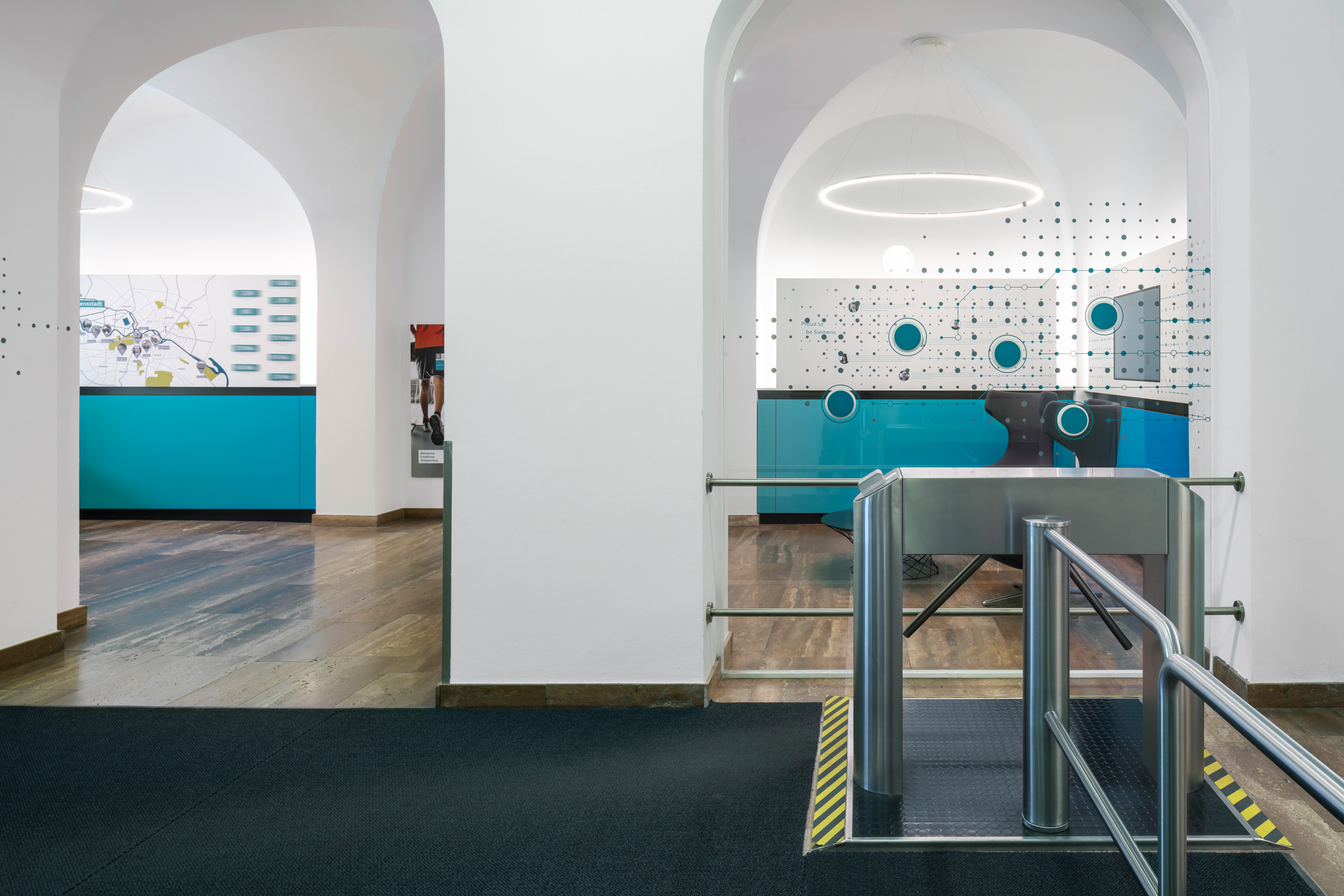 Project details
---
Client
Siemens SRE, Berlin
Location
Nonnendammallee 101, Berlin-Siemensstadt
Services
Media Planning
Programming
Projekt Coordination
Project Realisation
Spatial graphic
Facts
40m² waiting area in an historical building
5 wireless interactive buttons
1200 connecting Mindsphere Dots
Automated content feed for current topics
Photographer: Constantin Meyer
Find more Interaction Design here.
Related topics and projects.