Change Countdown for Wolters Kluwer
Wolters Kluwer is building a new German headquarters in Hürth. The aim is to merge two locations in the new building – not only in terms of space but also in terms of identification with the new working environment and the joint culture.
While the 6,000 m² new building is built within one year, Wolters Kluwer will commission dreiform with the integrated planning of the entire interior design and the accompanying change communication.
WK One. Step by step.
Employees, teams and decision makers are involved in the development of and topic-related communication about the project from the very beginning.
A symbol for the dramaturgy of the communicative support is the countdown, which can be experienced through several elements that build on each other in a meaningful way: SEE, EXPERIENCE, PARTICIPATE. During the planning and construction phases, the change countdown continuously offers opportunities to involve the team: from the laying of the foundation stone to the go-live of the microsite, from drone flights through the shell construction of the building to the roofing ceremony, from workshops on the design of individual areas to the presentation of and voting on the furniture in the exploration room.
WK Eins also stands for a joint goal: moving into Wolters Kluwer Straße 1.
The transparent communication of changes is an essential success factor for the acceptance and functioning of working environments.
dreiform
Why change communication?

Die frühzeitige, strategisch geplante Kommunikation gibt Mitarbeitern Orientierung über das, was Sie am neuen Standort erwartet. Das Ziel: eventuellen Vorbehalten entgegenwirken und Vorfreude auf den neuen Ort wecken. So entsteht eine Identifikation des Teams mit dem neuem Standort und veränderten Arbeitsabläufen.
Two stages: real/digital
Communication on the topics takes place on two stages – the digital microsite, which bundles all relevant information on the project on the intranet, and the brick-and-mortar exploration room, where various room situations for the future building can be experienced and tried out in advance.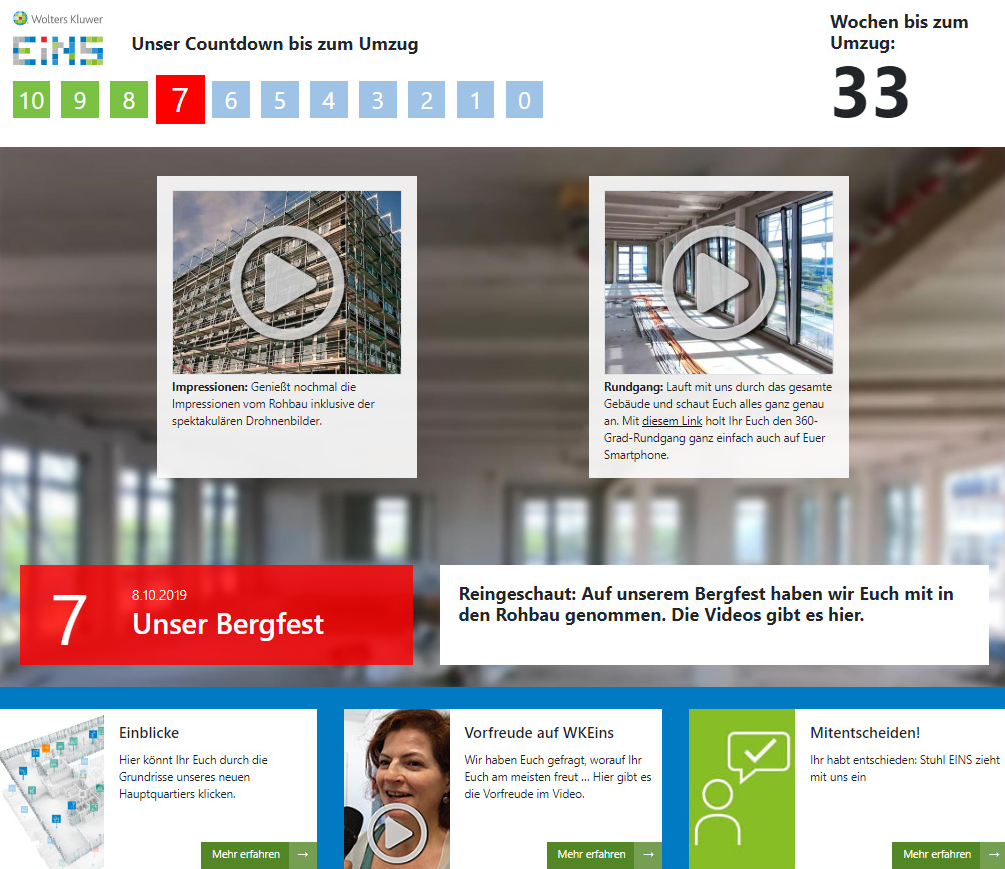 Shaping change together.
CEO Martina Bruder at the inauguration of the exploration room.

WK Eins exploration room with furniture variants.

Large-format graphics depicting the topics under discussion.

Personal invitation by internal mail.

Everybody votes. Every opinion counts.
Über Wolters Kluwer

Wolters Kluwer Deutschland ist ein führender Anbieter von Fachinformationen, Software und Services im Bereich Recht, Wirtschaft und Steuern.
Project details
---
Services
Collaborative Spaces
Concept Development
Control and Orientation System
Spatial graphic
Working Environments
Find more Working Environments here.