Yanfeng IAA
What happens if the steering wheel disappears in the vehicle of tomorrow? The automobile is transformed into the living space of the future – The Next Living Space. dreiform translates Yanfeng's vision of the future in an experience in the here and now:
Presented at a trendsetting stand that renders automotive interiors interactive.
The Car becomes a living room
How can future visions of a brand be translated into an experience in the here and now? The starting point is a show car that makes the vision of the car interior of the future come alive. Various interior scenarios such as Lounge and Family Mode are played out here and can be experienced interactively. The result is an integrated trade-fair concept that invites visitors to visit the exhibition in a structural, media-based and interactive manner: EXPERIENCE THE INTERIOR OF AUTONOMOUS DRIVING.
The Next Living Space
Implemented from the overall concept down to the smallest details:
Exclusive smart surface materials tangibly reflect the exacting requirement for innovative optical design. While bright colors, wooden surfaces ana dark granulate floor convey the homely character of the living space.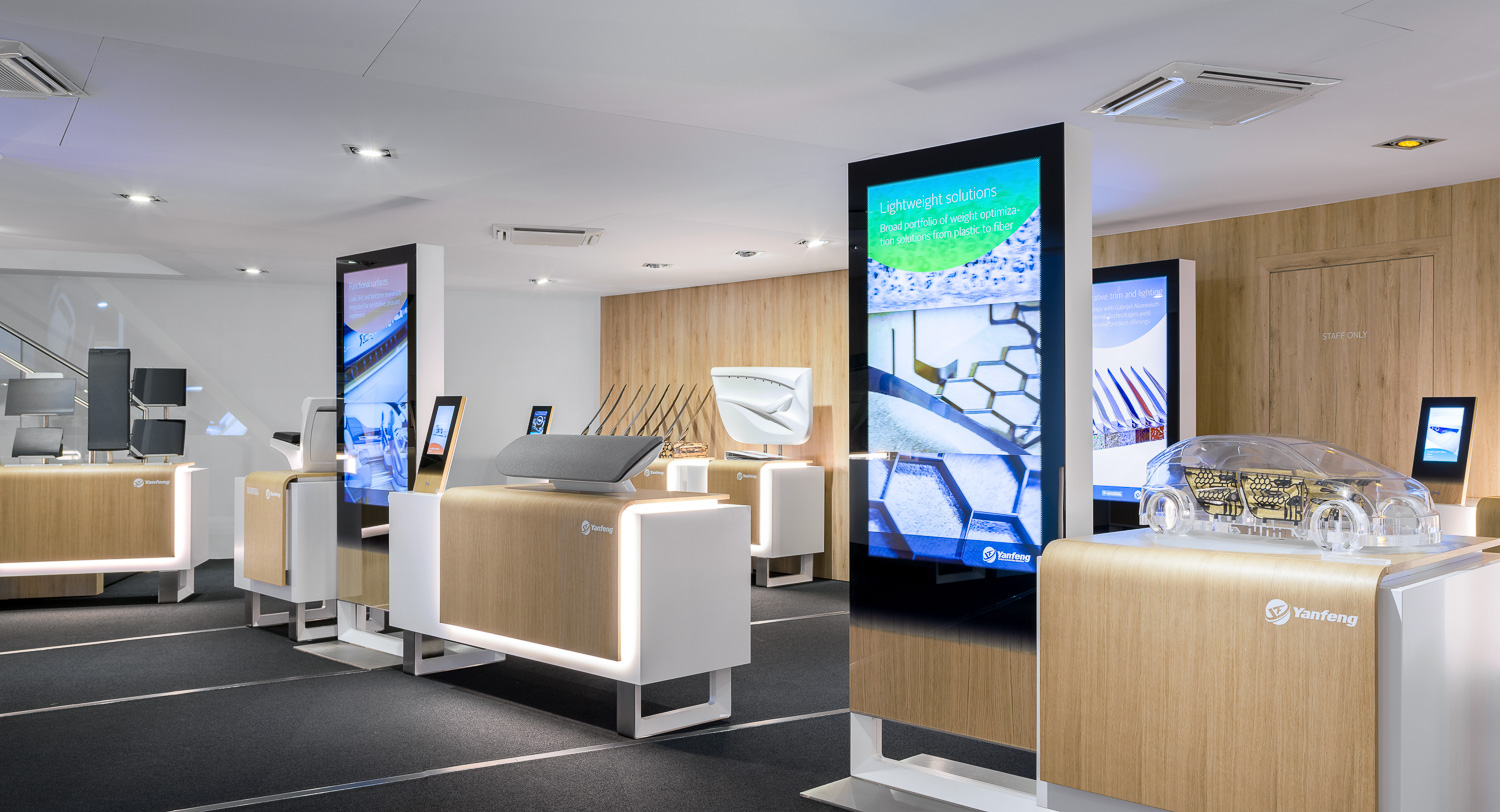 Experience in Motion
The overriding customer claim of Experience in Motion is visible in the stand's architecture and choice of materials:
The dyic lines of the dark granulate floor are reminiscent of progress and movement. The curved LED wall provides additional detailed information on the show car through animated films, equipment highlights and vehicle impressions created for the event.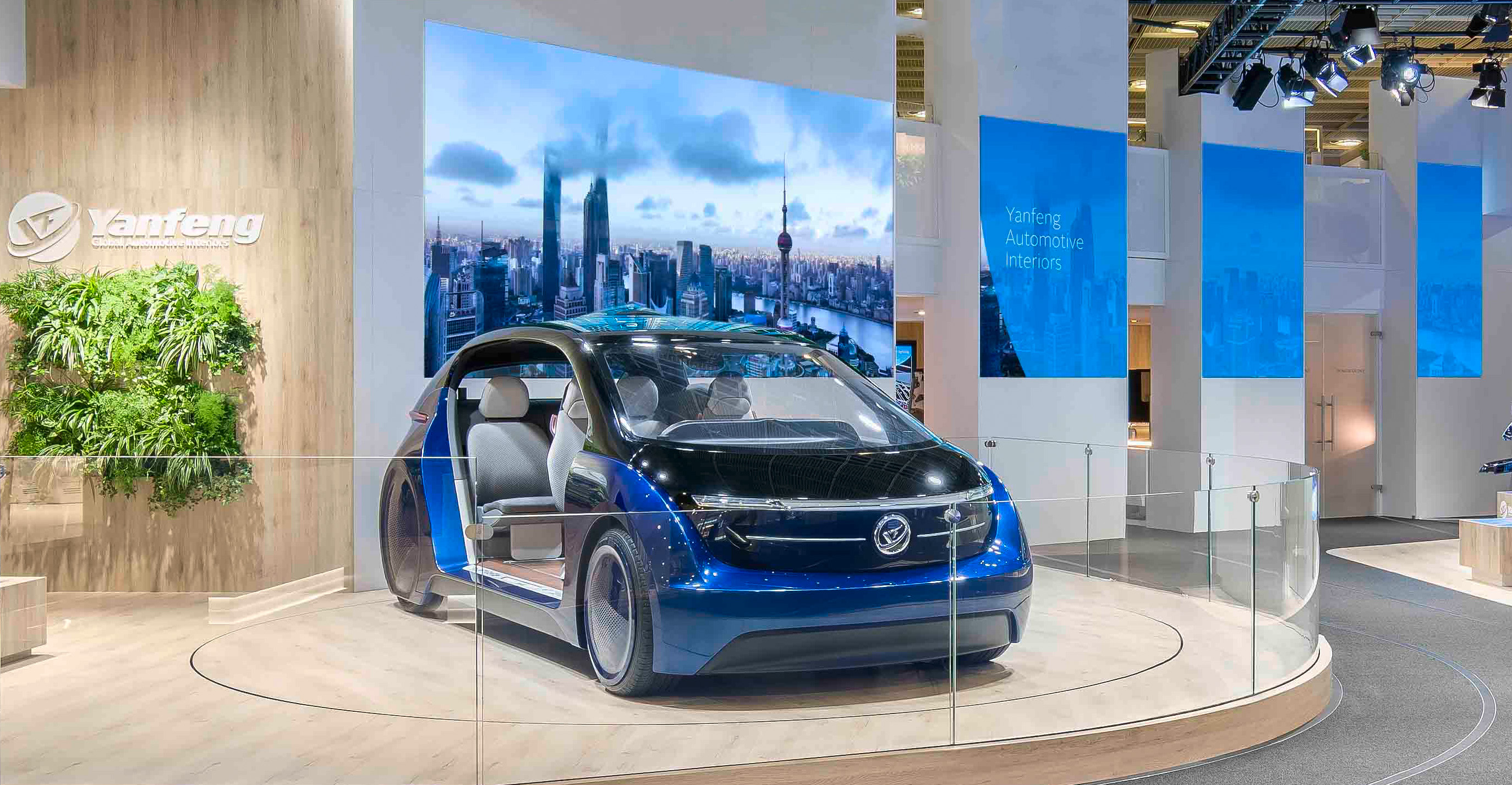 Touch & get inspired
The stand's exclusive area invites visitors to experience interior elements interactively and see for themselves the results of new production technologies.
Each guest receives an RFID card, using which he or she can scan individual stations at the exhibition stand and call up additional information on selected topics. The actual products on display are connected to the product screens via sensors, so that information is displayed on them as soon as a product is lifted.
Project details
---
Services
Communicating Innovation
Interactive Modules & Spaces
Media Integration
Media Planning
Project Coordination
Project Realisation
Spatial graphic
Staff Training
Standby & On-Site Service
Virtual Exhibition & Experiences
Facts
Stand area: 400m² + additional floor 510m²
19 exhibit boxes with 50 customer exhibits
Photographer: Stefan Schilling
Über Yanfeng

Yanfeng Automotive Interiors (YFAI) ist weltweit führend in der automobilen Innenausstattung und gestaltet Gegenwart und Zukunft des Erlebnisraums "Auto". Das Unternehmen entwickelt und fertigt innovative Innenraumkomponenten wie Instrumententafeln, Cockpitsysteme, Türverkleidungen, Mittelkonsolen oder Dachbedieneinheiten für alle Automobilhersteller. Auf der IAA 2017 bereitet Yanfeng den Weg für das Interior autonomen Fahrens.
Find more Digital Installations here.
Related projects and topics.