feuerwehr.erlebnis.museum.
From technical display to exciting, interactive museum experience: dreiform integrates a striking exhibit collection with overall dramaturgy and themed production that reveals fresh new unique perspectives on the fire brigade.
With plenty of space for hands-on experiences and participation, a comprehensive impression of human, technical, and historical background emerges in over 1000 sqm and appeals to more than just technology enthusiasts.
Firefighting
How did people fight fire in former times? How was imperator Augustus involved in firefighting?
Fire departments as we know them today don't exist for such a long time. The room "Events" provides an insight into the creation of the first fire departments, how people fought fire before that and highlights the extended field of duty of modern fire departments.
The interior design of the room reflects this development, leading from the ancient Rome to present times. Various exhibits contribute to a vivid experience of historic firefighting.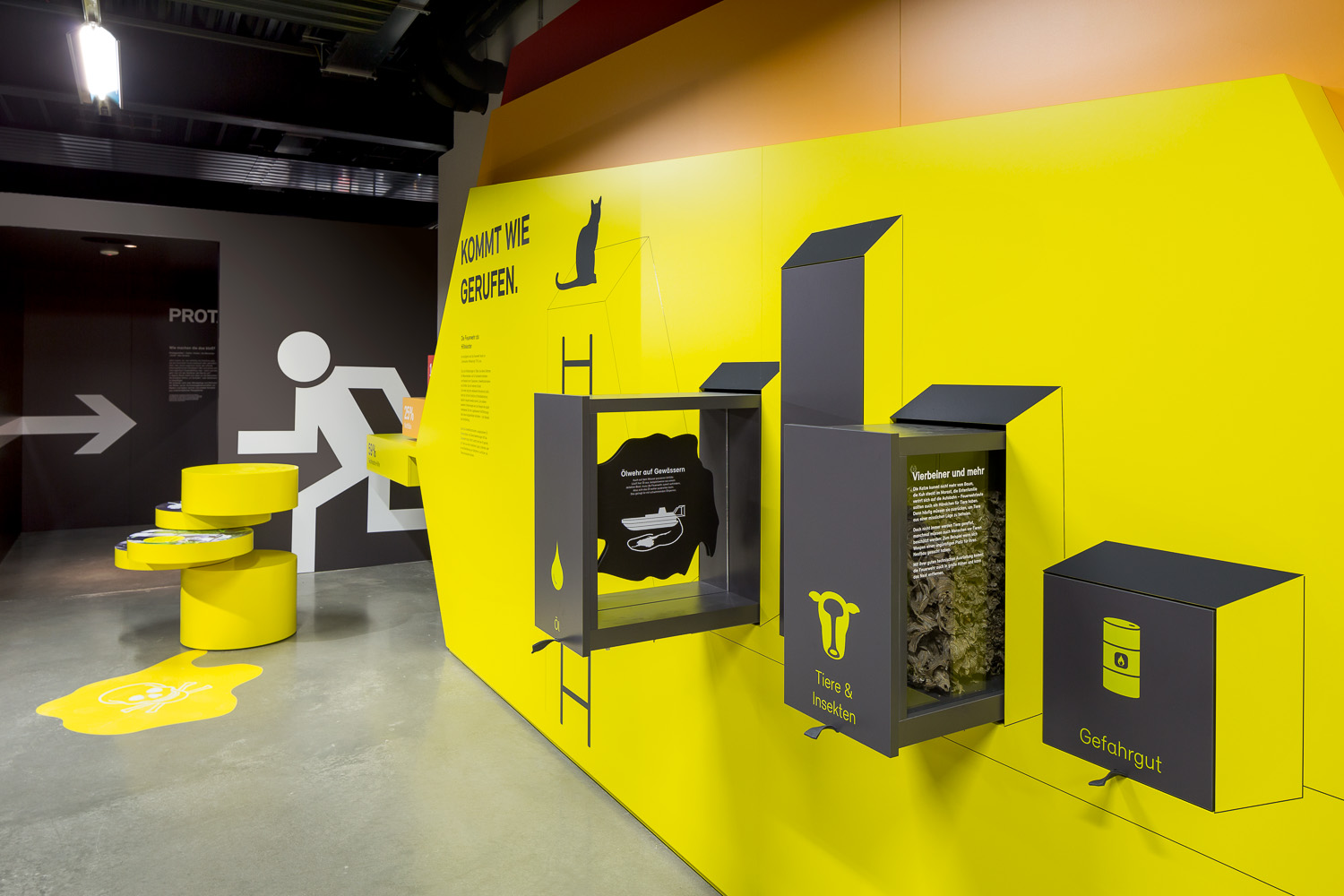 Protagonists
Stories from different points of view (from victims and their saviors) are shown in the room "Protagonists". Visitors learn more about the people "behind the uniform": their motivation, good and bad moments.
Calling the fire service is easy today, everyone knows the 112, but how was that in former times? Three huge numbers forming the 112 invite visitors to explore that topic.
Activities
The whole concept of the museum is designed for a broad target group (ranging from firefighters to school classes or families) and with a strong focus on a hands-on exhibits.
By practicing knots, lifting heavy tools, using an old fire hose, visitors learn more about the physically demanding work of firefighters. The clear visual concept and large wall graphics add to a contemporary museum experience.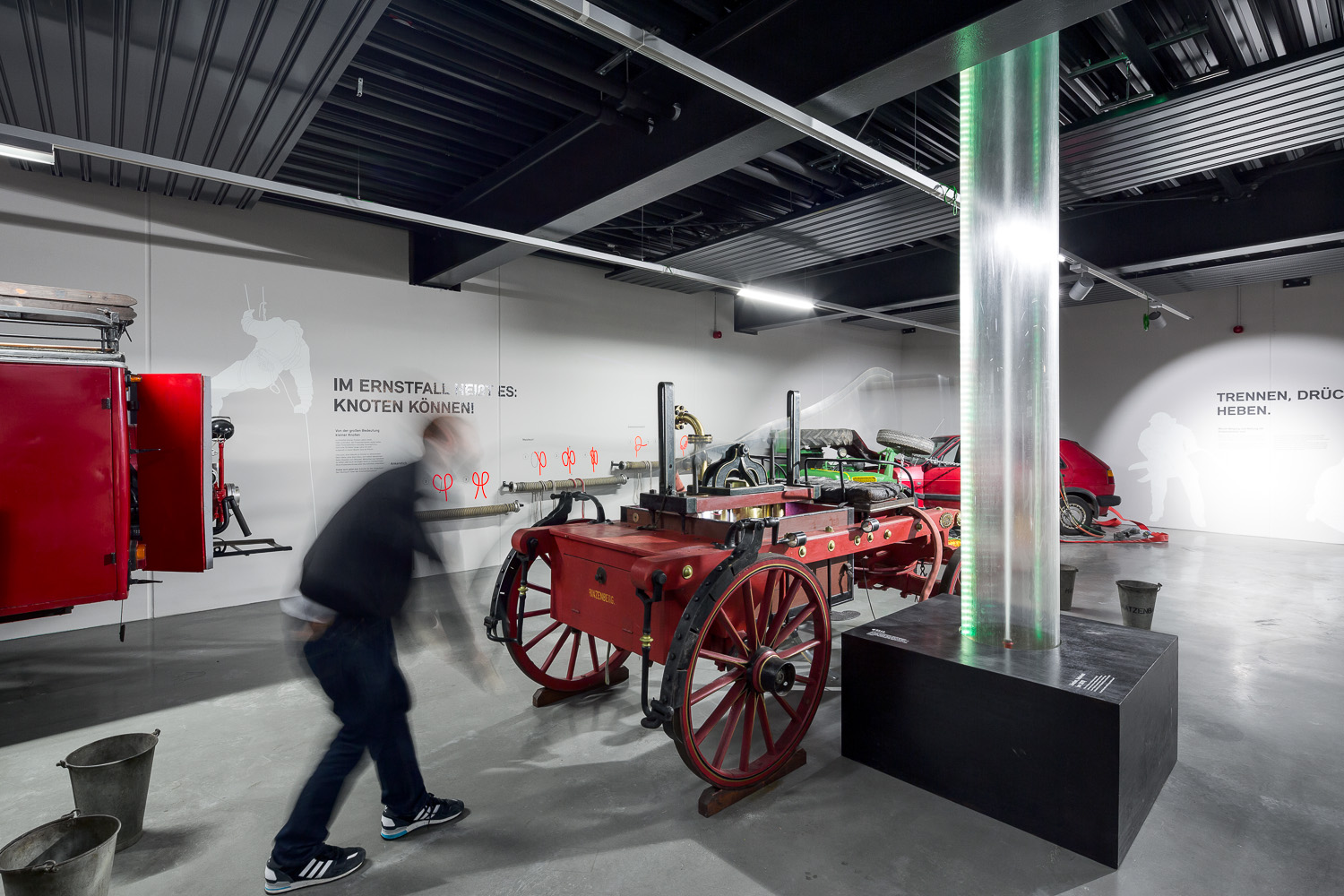 Flori und Flammi
Two smart characters accompany children through the museum, providing inspiring information: It is Flori, the speaking fire helmet, and his buddy Flammi, who unites the good and the bad of the element fire in one person.
Jury-Statement
Designpreis Rheinland-Pfalz

"Retten, bergen, löschen, schützen" – im kommunalen feuerwehr erlebnis museum, das am 10. April 2014 in Hermeskeil (Rheinland-Pfalz) eröffnet wurde, wird Feuerwehrgeschichte in einem neuen zweigeschossigen Museumssgebäude auf über 1.000 qm Ausstellungsfläche so spannend und interaktiv vermittelt, dass die Faszination und der Schrecken des Feuers alle Sinne des Besuchers berührt.

Mit einem klaren visuellen Erscheinungsbild und dem raumgreifenden Einsatz von Ausstellungsgrafik sowie durch den Wechsel verschiedener Informationsebenen, durch mediale, audiovisuelle und haptische Angebote, durch exemplarische technische Geräte und Mitmachstationen, an denen selbt erkundet, entdeckt, geübt, physisch nachvollzogen und emotional miterlebt werden kann, gelang es der Kölner Agentur dreiform, einen "sprechenden" Parcours durch die Dauerausstellung zu schaffen.

Jenseits der klassischen Exponateschau mit lokalem oder regionalem Anspruch verknüpf er die Darstellung der Entwicklung des Feuerwehrwesens von der Antike bis in die Gegenwart partizipativ mit zeitgemäßer Brandschutzaufklärung und -erziehung.

Dr. Annette Ludwig
Just go there and convince yourself:
Project details
---
Location
Hermeskeil, Rheinland-Pfalz
Services
Corporate Design
Spatial graphic
Text + Content Design
Facts
Design Award Rheinland-Pfalz
Related projects and topics.