Covestro CMF Trend App
At CHINAPLAS in Guangzhou, Covestro will be presenting an app that allows visitors to playfully immerse into the aesthetic world of high-tech polymers. The application has been customised for the Asian region and integrated into WeChat for maximum user comfort.
CMF Experience
In collaboration with Covestro, we address the questions, "How do I create a material experience in digital space? How do I approach and inspire designers in a visual and creative way?"
The first emotional chapter of this sustainable digital customer journey is aimed at the target group of designers and creatives. Through an approach specific to this group, existing and potential customers shall be made enthusiastic about material innovations at the earliest possible stage of the design process.
Together with dreiform, we are creating digital and analog customer experiences and services that appeal especially to designers and the creative industry.
Christopher Stillings
(Covestro)
Shake it!
The result: gamification, curiosity and digitisation combine physical Covestro materials and current design trends to form digital CMF worlds.
As soon as the user shakes his smartphone when prompted to do so by the app, the material worlds begin to move dynamically. This simple gesture generates countless material inspirations that can be shared with friends via WeChat.
Black can be...
... self-confident, mysterious, elegant, discreet and much more. Explicitly addressing designers and creatives via an intuitive and sensitive tool opens up new communication channels.
Based on the annual "CMF Design Trends" published by the YANG DESIGN Studio, we have aesthetically illustrated various 3D scenes in the colour world "black". Abstract shapes show the different facets and possible characteristics of various black surfaces using virtual Covestro materials.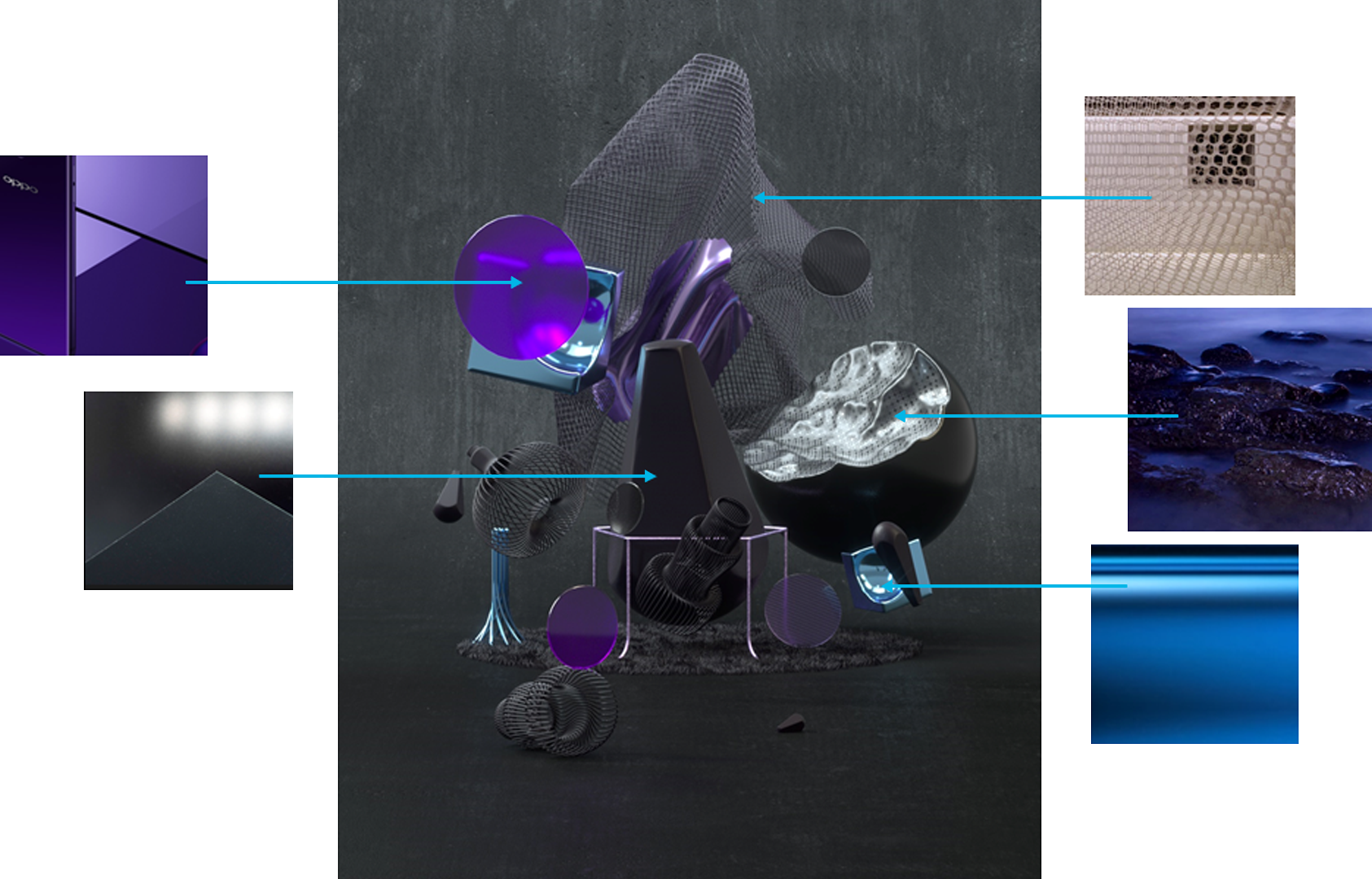 Explanation
CMF Design

CMF Design, or colour-material-finish design, is an emerging design discipline. CMF designers can be found in organisations with their own industrial design departments, e.g. in consumer goods and electronics, fashion and transportation. CMF designers collaborate with industrial designers by enhancing products that have already been designed in terms of colour, material and surface.

WeChat

The application was embedded into the Chinese WeChat app, an application launched in 2011 by the Chinese Internet giant Tencent, which has recorded almost 1.1 billion active users per month in 2018.

Since Facebook, Twitter and others are under censorship in China, WeChat is almost unrivalled. One reason for the great popularity of the social network is the huge selection of mini programmes that are offered within the app. In addition, applications from external providers can be added and embedded.

Digital Customer Journey (DCJ)

The goal of a company and its marketing efforts is to intensify its relationship with its customers through positive experiences. With knowledge of the company's target groups and the relevant touchpoints, it is possible to generate positive experiences in a targeted manner.

To this end, it is necessary to know the target group and customers as well as their wishes and needs exactly, and to fulfil them at every moment of the contact – ideally even to exceed them. The coordination of all these measures is decisive for a holistically optimal DCJ.
Black Worlds
Virtual Landscape - Black is mysterious, ethereal, surreal

Hustle - Black is confident, edgy, deep

Slow Utopia - Black is elegant, subdued, awe-inspiring

Data Craft - Black is SciFi, cyberpunk, multiverse
Project deails
---
Client
Covestro Polymers (China) Co., Ltd.
Location
Chinaplas, Guangzhou, China
Services
CGI
Color trend screening
Strategic Consulting
Facts
170.000 Visitors on Chinaplas
4000 QR Code Scans
400 Subscribtions via app
WeChat Integration

Technology: WebGL + three.js in Javascript